Token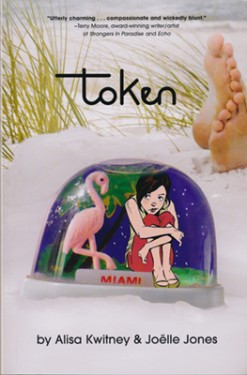 Minx • November 4, 2008
Purchase Book: Amazon | Barnes & Noble | Indie Bound
All she wants is a token of his affection.
It's 1987 and fifteen-year old Shira Spektor lives with her father in a funky apartment building on Miami's South Beach. More comfortable wearing retro 40's clothing than the current fashions, Shira doesn't belong – which is why her best friend is a bawdy, brassy eighty year old, and Shira herself has never even been kissed properly.
It would have helped to have a mother to turn to for advice, but Shira and her dad have been doing all right on their own since she was three.
And then her father falls in love with his secretary, and suddenly Shira isn't his special girl anymore.
Bruised by her father's constant criticism and the barbed attention from the popular girls at school, Shira finds comfort in a dangerous new hobby – shoplifting. But when she gets caught by a streetwise, dark-eyed boy from Spain, Shira discovers an unexpected friend and ally.
And then friendship grows into something more thrilling…and less safe.
Token was featured in the November 2008 issue of Romantic Times BOOK Reviews magazine. Click here to view article.
Reviews
"The Minx line of girl-themed graphic novels ends with its best book… While the story is alternately touching and thought provoking, Jones's art is simply astounding. Her characters' expressions and attitudes are perfect in every panel to convey the emotion underlying the text. People are attractive—you want to keep your eyes on them—without being glossy or artificial. The story, while following the "life-changing turning point" focus of the Minx line, is more subtle and mature than many others. Shira's learning to make her own choices and let go of her father to have his own life, and she comes out the stronger for it."—Publishers Weekly
"There are two books in Alisa Kwitney's Token: one is the utterly charming portrayal of a teen girl's summer romance in the heat of Miami Beach, as portrayed by my new favorite artist, Joelle Jones; the other is an insightful analysis of the unfathomable human heart, at once compassionate and wickedly blunt. Yes, Kwitney is that good. Please tell me this isn't the only book we'll see about the irrepressible Shira Spektor."—Terry Moore, Award winning author of Strangers in Paradise and Echo
"Shira lives in a Miami hotel with her widowed father and her grandmother. When Shira's father begins to date his secretary and their relationship turns serious, Shira has trouble accepting how he is changing. And, for his part, her father can't communicate as well with an almost 16-year-old Shira as he could when she was just a little girl. Shira turns to petty shoplifting and the arms of a mysterious Spanish boy to cope with her feelings. All the ingredients of a standard—and credible—YA problem novel are here, but Kwitney's script and Jones' expressive black-and-white art make the story fresh and worth the quick reading time. Relationships are authentic, and both adults and teens evidence a true depth of character. The sadly soon-to-be discontinued Minx line again upholds its standard of well-crafted and original work…"—Francisca Goldsmith, Booklis