The Better To Hold You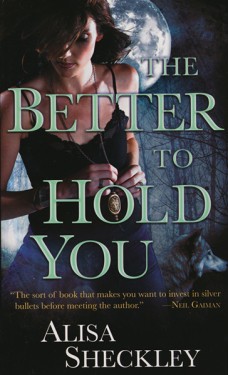 Del Rey • February 24, 2009
Purchase Book: Amazon | Barnes & Noble | Indie Bound
Being Married to a Werewolf Gives New Meaning to the Words "High Risk Relationship."
Manhattan veterinarian Abra Barrow has more sense about animals than she does about men. So when her adored journalist husband returns from a research trip in Romania and starts pacing their apartment like a caged wolf, Abra agrees to move with him to a rural mansion upstate.
But while there are perks to her new life, particularly in the bedroom, Abra soon discovers that nothing in the bucolic town of Northside is what it seems. The local tavern serves a dangerous, predatory underworld. Her husband has developed feral new appetites and a roving eye, and his lack of humanity isn't enitrely emotional. And the other woman really is what Abra feels like calling her.
As the moon waxes full, Abra must choose between trusting the man she married, taking a chance on a seductive stranger…or following her own animal instincts.
Read Between the Lines
Let's be honest. You're probably supposed to be doing something else right now. Like working. Or looking for work. Maybe you're supposed to be calling up one of those companies that keep you on hold for a while, or cleaning out a closet, or pilling the cat. (Wrap the cat in a towel first, so you don't get clawed.) Didn't you say today was the day you'd start exercising? I know I did. But if you're like me, you tend to lose a bit of time, browsing the internet for unexpected pleasures: A clip of Hans Solo, all insolence and gruff charm, as he kisses the hell out of Princess Leia. A snippet of wurlitzer music as King Harvest suggests Dancing in the Moonlight. A tip-off for a new book, or author, to help you lose even more time. A hero to make your palms sweat.
Now, at first glance, Red Mallin may not seem like the likeliest prospect. In fact, the wry, wiry redneck wildlife removal expert doesn't even register on veterinarian Abra Barrow's radar at first. But as time goes by, Red reveals unexpected depths — and strength. Which makes sense, since he's actually a shapeshifting shaman. I suppose he's a shapeshifter in both senses of the word, since he can change into a coyote — I'm sorry, a red wolf, he insists he's not some trickster coyote — but he's also figuratively a shapeshifter, a character who looks like he's one sort of person, but assumes quite a different role. I love the kind of heroes who become more attractive as you get to know them, and Red was born, in part, from Gary Sinise's subtle portrayal of Stu Redman in Steven King's The Stand. At first glance, I didn't think that much of him, but as he was tested by events, his resourceful, clever, cynical-yet-moral approach to life made we want to, well, eat him up. Which seemed appropriate for a book about werewolves, somehow.
Romantic Times BOOKreviews has featured Alisa in their March Clubhouse. Find out why Alisa made the move from women's fiction to paranormal.
Wondering where Alisa got the idea for The Better to Hold You? Read the Tor.com interview to find out!
The Better to Hold You is mentioned in Alisa's interview with Tim O'Shea. Read the full interview on TalkingWithTim.com!
The Soundtrack
As a kid, I used to pretend to be Carly Simon or Cher, while my friend Joey unrolled the toilet paper in our make-believe record studio. But thanks to my friends at Choking Chicken Records, the singer/songwriter/kick-ass guitarist Erin Hobson and bass player/producer/wolfish baritone Stephen W. Ross, I've actually recorded "The Better to Hold You," the song.
I wrote the words and sing the lead, Erin wrote the music and plays the guitar, and Stephen arranged, produced and provided wolfish vocals. And that's Erin and me singing back-up, as well. We did everything in Stephen's makeshift "electric blanket" studio (he's building a bigger one while his pet goat and pony look on from the yard outside). Anyway, you can take a look at some pics of our session, and I'm including the words in case you feel an uncontrollable urge to sing along.
You can check out Erin and Stephen's music at www.ErinHobsonCompact.com, but if you want to meet the pony and the goat, you'll have to get in the car and drive out to Dutchess County – they perform at local clubs all the time.
The Better to Hold You lyrics by Alisa Kwitney and music by Erin Hobson
Don't forget the gin and lucky strikes for Grandma!
Little Red Riding Hood went into the wood
Trying to decide to be bad or be good
Along came the Wolf with a knowing grin
Said, will you take the path of needles
Or the path of pins
The path of pins, said the girl with a smile
I bet I'll beat you there, that bad wolf replied
Bet I'll meet you there already in bed
Don't be so sure, Wolf
You're in over your head
First Chorus
What big eyes you have
The better to see you
What big hands you have
The better to hold you
What big teeth you have
The better to eat little babes in the wood
Little Red Riding Hood, don't you understand
A dog's not a wolf, and a boy's not a man
Your grandma's too old but your mama still knows
Don't let hairy strangers
talk you out of clothes
I've got eyes of my own, Wolf
and my own appetites
My teeth are getting bigger
And my hands feel like paws
Got a bad case of moonburn
So Wolf, don't piss me off
Second Chorus:
What big eyes you have
The better to see you
What big hands you have
The better to hold you
What big teeth you have
The better to eat great big wolves in the wood
Delicious.
Reviews
Sheckley has turned the werewolf genre on its ear with this stylish, imaginative tale. Abra is a brilliant, engaging character whose powers of observation are keen and interesting. She invites the reader into her life, making them part of the action in a very real sense. The dialogue is sharp and original, the prose inventive and at times nothing short of brilliant.
The novel is layered like colored fabric in a tapestry, each level unraveling and reknitting itself as Abra's story unfolds. There are no slow points, each scene moving the plot along like the parts of a symphony. I cannot recommend Sheckley enough and look forward to reading more of her work.—Melissa Bradley StaticMultimedia.com
The further along the story progresses, the darker, spookier and more gothic it becomes – finally arriving in full-blown dark urban fantasy territory. Abra's life changes forever before the conclusion and she emerges from her experience a new and empowered woman in more ways than one. Some of Northside's supernatural secrets are revealed setting the stage for a whole new world to be explored in the sequel Moonburn. The Better to Hold You is compelling story telling. I highly recommend it.—Doug Knipe, Sci Fi Guy.ca
"I love this author's voice. I was happy that the change in genres didn't change her prose." Jennie
"The Better to Hold You was one of my most anticipated books of 2009. I'm a big fan of Alisa Sheckley's wry, satirical chick lit novels which were published under the name Alisa Kwitney." Janine—The two Ja(y)nes, Conversational Review, Dear Author.com
What makes Kwitney's stories stand out for me is her characters – they always feel real to me and this story is no different. I started this book early Saturday morning and couldn't put it down for the first eight chapters… Kwitney/Sheckley is one of my favorite authors. The first book, The Better To Hold You was a strong start to this series so I am definitely looking forward to the sequel. This is another author who has a rich character writing style that continues to amaze me.—Keishon at Avidbookreader.com
"The sort of book that makes you want to invest in silver bullets before meeting the author"—New York Times bestselling author Neil Gaiman
"An intense werewolf story with some interesting new twists."—FreshFiction.com | Read the full review