Moon Burn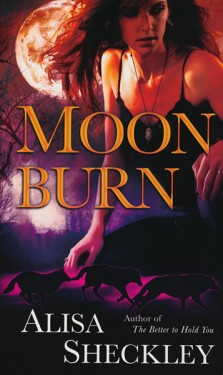 Del Rey • May 19, 2009
Purchase Book: Amazon | Barnes & Noble | Indie Bound
*** SPOILER ALERT ***
This book is a sequel and should be read after The Better to Hold You.
Some instincts are too powerful to deny.
In the past year, veterinarian Abra Barrow has gone through some major changes: She's left Manhattan for the deceptively quiet small town of Northside, ditched her cheating husband and discovered that he has infected her with the rare werewolf virus. Now, Abra is finally beginning to feel like she has her life under control —
Except when the moon is full.
All of a sudden, Abra starts losing her temper – and her inhibitions – even when the sun is shining. Her new man, shapeshifting wildlife expert Red Mallin, seems to know more about her condition than he's letting on, but he's a little preoccupied with the strange creatures that have been crossing the dimensional border.
With her hormones in overdrive, Abra finds herself releasing the beast in all the men around her. As life in Northside becomes increasingly more peculiar – and more perilous – she must decide whom she can trust, when she's not even sure she can trust herself…
Read Between the Lines
Borders can be pretty dangerous places. People slip over them in the dead of night, bringing desperate travelers, contraband goods and stolen identities. I knew I was inviting in all kinds of delicious plot complications when I set my novel, The Better to Hold You, on an invisible boundary line between realities.
I tried not to think about the complications I was inviting by setting my sequel, Moonburn, on the borderline between paranormal romance and urban fantasy. At first, when I thought about writing a sequel, I thought I would concentrate on another couple, and leave my main characters to get on with the business of living happily ever after.
But the truth is, I've always had a bit of a problem believing that couples will transition straight from a passionately conflicted courtship to a stress-free marriage. In my novels, I've always ended things optimistically, but assumed that there was another book, never to be written, about what happened next.
And all of a sudden, I wanted to write the forbidden book. In The Better to Hold You, my heroine, Abra, becomes infected with the lycanthropy virus and discovers how to listen to her instincts. But what if her condition continues to change, and her instincts, and her impulses, become harder to control?
In The Better to Hold You, lycanthropy was like an STD. In Moonburn, it's a bit more like tourettes…if tourettes made you irresistibly attractive. What if you couldn't suppress your reaction to every shmendrick who pisses you off at work…or your response to every passing flicker of attraction? That's what Abra's dealing with in Moonburn.
As for Red — well, I've always known that he is concealing a very complicated past. He's a shapeshifter, not a werewolf…and in this novel, we find out just what that means.
Add to the mix the complications of an ex-husband and his girlfriend living way too close for comfort, and I knew I had all the makings for an emotional and supernatural showdown.
And yet I know that I'm probably crossing a line. In urban fantasy, relationships do progress past the stage of first courtship. But urban fantasy is often more about the world and the mystery than about one central relationship.
Which side does Moonburn fall on, PR or UF? I say squarely on the border between, but I look forward to hearing what you think.
Moonburn is mentioned in Alisa's interview with Tim O'Shea. Read the full interview on TalkingWithTim.com!
The Soundtrack
As a kid, I used to pretend to be Carly Simon or Cher, while my friend Joey unrolled the toilet paper in our make-believe record studio. But thanks to my friends at Choking Chicken Records, the singer/songwriter/kick-ass guitarist Erin Hobson and bass player/producer/wolfish baritone Stephen W. Ross, I've actually recorded "The Better to Hold You," the song.
I wrote the words and sing the lead, Erin wrote the music and plays the guitar, and Stephen arranged, produced and provided wolfish vocals. And that's Erin and me singing back-up, as well. We did everything in Stephen's makeshift "electric blanket" studio (he's building a bigger one while his pet goat and pony look on from the yard outside). Anyway, you can take a look at some pics of our session, and I'm including the words in case you feel an uncontrollable urge to sing along.
You can check out Erin and Stephen's music at www.ErinHobsonCompact.com, but if you want to meet the pony and the goat, you'll have to get in the car and drive out to Dutchess County – they perform at local clubs all the time.
The Better to Hold You lyrics by Alisa Kwitney and music by Erin Hobson
Don't forget the gin and lucky strikes for Grandma!
Little Red Riding Hood went into the wood
Trying to decide to be bad or be good
Along came the Wolf with a knowing grin
Said, will you take the path of needles
Or the path of pins
The path of pins, said the girl with a smile
I bet I'll beat you there, that bad wolf replied
Bet I'll meet you there already in bed
Don't be so sure, Wolf
You're in over your head
First Chorus
What big eyes you have
The better to see you
What big hands you have
The better to hold you
What big teeth you have
The better to eat little babes in the wood
Little Red Riding Hood, don't you understand
A dog's not a wolf, and a boy's not a man
Your grandma's too old but your mama still knows
Don't let hairy strangers
talk you out of clothes
I've got eyes of my own, Wolf
and my own appetites
My teeth are getting bigger
And my hands feel like paws
Got a bad case of moonburn
So Wolf, don't piss me off
Second Chorus:
What big eyes you have
The better to see you
What big hands you have
The better to hold you
What big teeth you have
The better to eat great big wolves in the wood
Delicious.
Reviews
"Sheckley deftly executes an intriguing, inventive story that hooks you from the start with a plot that weaves together supernatural and contemporary worlds. WIth a strong heroine surrounded by distinctive, colorful characters and a good amount of romance, action and folklore, this is a tale that will keep readers enthralled."—Romantic Times BOOK reviews – 4 stars