The Dominant Blonde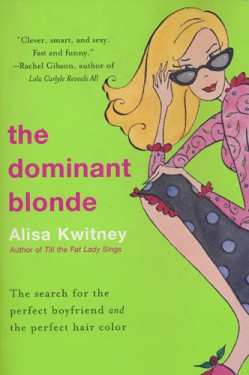 Avon Books • Trade Paperback • June 2002
Purchase Book: Amazon | Barnes & Noble | Indie Bound
Blonde and a size ten for the first time in her life, Lydia may actually have gotten this love thing right this time. Or not. After a run of bad career and dating decisions, Lydia Gold is ready for a vacation from her life. So what if the Caribbean resort's a little shabby and the boyfriend's not the lover of her dreams? This time around, Lydia's experiencing what it's like to have someone madly in love with her.
But when Abe doesn't return from a scuba dive, Lydia discovers some decidedly unsavory facts. Abe has embezzled three million dollars of her family's money. And he may not be as dead as she's beginning to wish he were.
Lydia's best chance for finding her missing boyfriend is Liam MacNally, a rugged, sexy former NYPD search and rescue diver and reluctant romantic. Liam wants nothing more than to sit on the beach with a Hemingway novel in one hand and a beer in the other.
But sometimes it takes a little danger to bring you to your senses…
Read Between the Lines
Okay, so you want to write a novel. Maybe a literary work. Maybe something historical. Or a mystery. With sex. Which might work better as a romantic comedy. Should a dolphin be involved?
The answer to the dolphin question is, almost certainly not. The other questions, however, are not as easy to answer, which is why most writers grapple with them, particularly if they're working on a first novel, or, as in my case, on a second novel that's a little late in coming.
I started The Dominant Blonde in the summer of 1999, eight years after my first novel, Till the Fat Lady Sings, was published. At 26, I had been a promising young author with a glowing New York Times book review; at 34, I was the exhausted mother of two very young children, and the only person who was actively waiting for my next novel was my mother.
After working seven years as an editor for DC Comics, I'd decided to go back to writing, in part so that I could work from home and be around my kids more, in part because I wanted to write another book.
I just didn't know which book.
So I started four different novels – one literary, one historical, one a thriller and the fifth a romance set in the Caribbean. I didn't have much of a plot in place for the latter, just a thought of writing something that Carl Hiassen might have come up with if he'd been given a big monthly dose of estrogen.
At the time, I was renting a house on Cape Cod and spending my days with my four year old son and one year old daughter, and feeling decidedly unsexy. Possibly because of this, the romance novel was the one that developed legs (as in, it kept going.)
Drawing on my dim memories of scuba diving and even dimmer memories of pre-mommyhood sex, I finished my novel in nine months and decided that the best way to sell it would be to join the Romance Writers of America and go to their National Convention.
At the RWA convention, with my breasts growing larger and more cumbersome by the day, (I was weaning my daughter at the time) I set off in search of an agent. What I found instead was an editor – Lucia Macro at Avon, whom I'd approached after a workshop. It turned out that Lucia actually remembered my first novel and had been wondering whatever happened to me.
In the end, The Dominant Blonde was published by Avon as a Trade Paperback, in part because of the tone, and in part because I broke with some conventions of the romance genre. It was important to me that Lydia, my heroine, had a rather full sexual past, because it always used to seem a bit unfair to me that romantic heroes could sleep around all they liked before meeting Ms. Right, while romantic heroines had to be virgins, technical virgins, or have slept only with the hero and one other man, but the other man was a long time ago, and besides, she never really enjoyed it.
Of course, Lydia didn't much enjoy her last sexual experience, either, but it wasn't a long time ago – in fact, she transitions rather quickly between men. Which is kind of messy and embarrassing, but that's the way I write romance.
At least I had the good sense to edit out the dolphin.
Reviews
"…her search for the perfect boyfriend and the perfect haircolor is delightful. It belongs right up there with all the legally and naturally blonde bombshells of our time."—Liz Smith, Nationally Syndicated Columnist on THE DOMINANT BLONDE
"Kwitney…has a good ear and a knack for snappy Chandler-in-the-Caribbean patter. But don't be fooled by the bubbly subtitle. This is a lark, but it's shaded with dark family psychologies and subtle intentions, and these people live and love in the real world. Furthermore, despite its obvious appeal as a "girl book," this novel takes the mind seriously. Throw in some guys named Chicky, Baron, Sizzle and Misha and a heck of a jitterbug scene, and you've got a beach book you can respect in the morning."—Emily Gordon, Newsday on THE DOMINANT BLONDE
"A jigsaw puzzle plot that comes together in bits and pieces combines with a pair of likable protagonists and a host of quirky secondary characters to produce a lively, darkly humorous, occasionally violent romp that is more fiction than romance. Nevertheless, the skillful handling of the romantic relationship, the main characters' emotional development, and the satisfactory ending will appeal to fans who like their romances laced with satire and a mainstream flair."—Kristin Ramsdell, Library Journal on THE DOMINANT BLONDE
"A decade after the well-received Till the Fat Lady Sings, Alisa Kwitney returns with The Dominant Blonde, an appealing romantic mystery. This smart, funny caper is much better than its title and cover imply."—Publisher's Weekly on THE DOMINANT BLONDE