Comics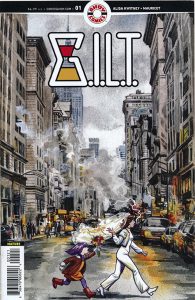 AHOY Comics • April 6, 2022
G.I.L.T. follows two very different women whose lives become entangled when they both slip through a portal in time to the day they first met in 1973. There's Hildy Winters, a bawdy, outspoken old broad with a pack-a day habit and a very desirable apartment on New York City's Upper West Side—and her very own time-travel portal. Hildy belongs to G.I.L.T., the Guild of Independent Lady Temporalists. Their prime directive: Do not alter the past without co-op board approval! Then there's Trista, the Bill Murray of home health care aides, a cynical screw-up who doesn't care for anything but her Fleuvog shoes and her paycheck. She meets her match in Hildy, a sarcastic second-wave feminist living on a steady diet of cigarettes and regret. When Hildy seizes her last chance to return to a fateful day in 1973, she accidentally takes Trista along for the ride. But as the old saying goes, there are no accidents in time travel. And Hildy and Trista don't remember each other, but they met each other forty years earlier—on Hildy's wedding day. Now they've got to come to terms with the past before they accidentally dismantle the future.
---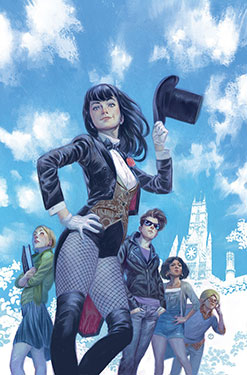 DC Comics • November 29, 2017
Leave the world of the mundane behind and step through the magical doors of Mystik U! After a tragic accident, a young Zatanna Zatara, under the guidance of Rose Psychic, enrolls in a mysterious university that teaches its students how to master their unique brands of magic. Will Zatanna fit in with her new classmates (Enchantress, Sargon the Sorcerer, Faust and more!) and unlock her true potential? Find out in this exciting bimonthly miniseries from novelist Alisa Kwitney (DESTINY) and Mike Norton (Revival, Runaways)!
Purchase Book: Amazon | Comixology | Barnes & Noble
---


MarvelWorldwide Inc. • January 1, 2013
Fantasy/romantic fiction/comics author Alisa Kwitney Flight of Angels, Moonburn) reveals the secret backstory of Avengers couple Hawkeye and the Black Widow. Under secret orders to assassinate the Widow, the rough-edged marksman finds himself caught up in a violent prison break that releases some of the world's most vicious and powerful criminals.
Purchase Book: Amazon | Barnes & Noble | Indie Bound
---


Vertigo • First Edition edition • November 8, 2011
Alisa joins bestselling YA author Holly Black (Tithe, the Spiderwick Chronicles), Bill Willingham (Fables), Louise Hawes (The Vanishing Point), and T. D. Mitchell (The Traitor King) to explore the diverse mythology of the celestial in A Flight of Angels. From tales of the dangerous to the all-powerful to guardian angels and angels of death, A Flight of Angels is a gorgeous graphic novel lushly painted by Rebecca Guay.
Purchase Book: Amazon
---


Minx • November 4, 2008
It's 1987 and fifteen-year old Shira Spektor lives with her father in a funky apartment building on Miami's South Beach. More comfortable wearing retro 40's clothing than the current fashions, Shira doesn't belong – which is why her best friend is a bawdy, brassy eighty year old, and Shira herself has never even been kissed properly.
Purchase Book: Amazon | Barnes & Noble | Indie Bound
---


DC Comics/Watson-Guptill Publishers • November 4, 2003
A lavishly illustrated insider's guide to Neil Gaiman's multi-award winning Sandman series. (Or, as I prefer to call it, An Introduction to the Sexiest Anthropomorphism in Comics).
Purchase Book: Amazon
---


Vertigo • March 1, 2000
Ten Years of Artwork on the Edge. Gorgeous, alternative comic book art, plus pithy observations. Sixteen additional pages of new material have been added to this paperback edition.
Purchase Book: Amazon
---


DC Comics/Watson-Guptill Publishers • October 9, 2003
Four of Alisa's favorite comic book artists contributed to this dark fantasy graphic novel that spans four different historical periods to tell a tale of love and betrayal. Or, Everything You Wanted to Know About the Bubonic Plague (But Were Too Scared to Ask.) DC Comics/Vertigo.
Purchase Book: Amazon
---