On the Couch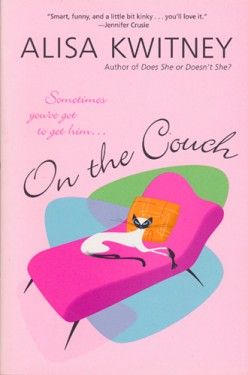 Avon Books • Trade Paperback, June 29, 2004
Purchase Book: Amazon | Barnes & Noble | Indie Bound
Meet Marlowe: A Manhattan psychologist who spends all her time helping other people recognize how unhealthy their relationships are.
Meet Joe: A blunt NYPD detective who's still smarting from being kicked off the Organized Crime Task Force and dumped by his wife.
What they have in common: A severely dysfunctional love life.
Clearly, they're perfect for each other. Now the only thing standing in the way of a blissful relationship is organized crime, the FBI, and an investigation into an Upper West Side brothel that leads straight to Marlowe's door.
Read Between the Lines
It's three a.m. in the city that never sleeps and the phone is ringing. I fumble for the receiver in the dark, only half awake. A chipper male voice asks if he can make an appointment.
"An appointment?" I ask. "What time is it?"
"Uh, wrong number," says the man, and hangs up.
I stare at the ceiling for a while, indiscriminately cursing men and phones.
"Who was it," asks my husband from the other side of the bed.
"Some idiot," I reply.
The next night, it happens again.
"He thinks we're an escort service," I realize. "Hey," I tell my husband. "We must have the same number as an escort service."
"Next time, string them along," suggests my husband.
But the next time, I'm too pissed off. "Check the damn number, why don't you."
In real life, that's where the story ends. But I kept wondering: What if I had strung the callers along? What if I could have asked the men, Why are you calling? You sound reasonably young, well-spoken, even attractive. What do you really want?
I began to think about the people I have paid for their services: Personal trainers at the gym from time to time. Manicurists. Therapists. I considered the whole strange gray area that lies between purely professional and purely personal relationships.
And that's how I came up with the idea for a novel about a psychologist who gets mistaken for a call girl by a cop.
I had great fun researching On the Couch – I got to see the very top floor of the Plaza hotel, (where not even Eloise gets to go), in order to meet the head of security there. I got to go on a ride along in the back of a police car. And I got mistaken for the top ranking uniform during an altercation, because I was the one wearing a police jacket in 90 degree heat (in order to hide the bullet proof vest I was required to wear).
Maybe because of all the research, I wound up finding Joe's voice extremely easy to access. Of all the male characters I've ever written, I feel the closest to Joe, who would sometimes speak up in the middle of a scene and say things like, Listen, it's your book and all, but I would not be getting nervous here. You might be getting nervous here. I would be getting royally pissed off.
There's nothing a writer likes better than characters that speak up for themselves.
Most, but not all, of what I learned went into the novel. The rest (like, don't leave a Hershey's bar on top of your uniform hat in the back seat of your Patrol car during the month of July) will have to be filed away for future reference.
In any case, the middle-of-the-night phone calls have now stopped. I am, however, getting a lot of really peculiar emails with subject lines such as, prozacvomitpenguin pleasure pills and, Is your lover satisfied with your engine?
But that's really another story.
Reviews
"an edgy, off-beat humor "
"Alisa Kwitney knows what she is writing about. She is a native New Yorker and she owns a needy cat… Very New York and very chick lit. On the Couch is not Sex and the City though, nor Bridget Jones , it's sort of more grownup, very smart and definitely more of a romance. However, whatever people want to label it, it doesn't make a difference in how well written and entertaining this story is."—A Romance Review awarding On The Couch a Five Roses rating (their highest). Read the whole review.
"Sexy romance with a few welcome twists."
"Less concerned with embarrassing pratfalls for her neurotic heroines than many of her chick-lit sisters, Kwitney still wants them to find love, and not a little bit of sex. The single girl here is Marlowe, a Manhattan psychologist with divorced parents providing her with distant affection and a trust fund. Joe is the NYPD detective with more crime smarts than tact… The relationship is fitful, playful and exciting, then cold and hostile, swinging wildly about as each tries to figure out what game the other is playing, all the while trying to find the killer to boot. Kwitney deserves credit for not throwing out illogical roadblocks, and there's a refreshing absence of stock best-friend characters."—Kirkus reviews
Four and a half stars
"Kwitney's third novel offers humor, realistic characters, spicy sex, intrigue and suspense, while covering common relationship issues. Her writing is irresistible, and her passages discussing Marlowe's feelings about her relationship with the intimacy-fearing Joe are astonishingly heartwrenching and accurate."—Samantha J. Gust, Romantic Times Review
"A teasingly good read. Sexy, sassy and a little kinky. A different take on Manhattan life – more handcuffs than cocktails."—USA Today Bestselling Author Carole Matthews