Writer Honoree of the Year Nominee Alisa Kwitney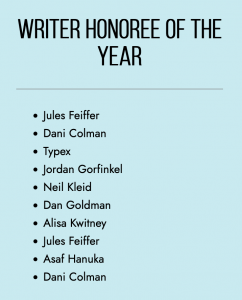 Alisa has been nominated for the Writer Honoree of the Year award at the first-ever JewCie Awards.
The first ceremony ever held in celebration of Jewish comics, the JewCie Awards supports JewCE's mission by honoring the creators of Jewish comic book narratives, themes, and characters. Such awards serve as a platform to acknowledge and celebrate the unique contributions of artists, storytellers, and creators who have invested their talents and passion into Jewish storytelling through the medium of comics.