Kwitney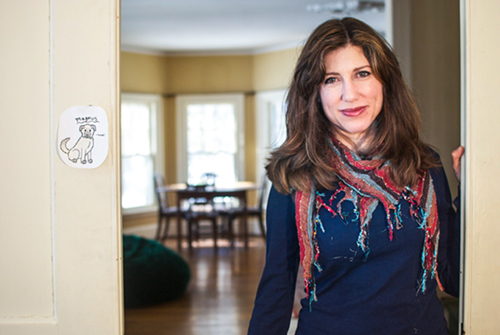 Short Bio:Alisa Kwitney was an editor at DC Comics/Vertigo and is the Eisner-nominated author of graphic novels, romantic women's fiction and urban fantasy. She was one of the authors of A Flight of Angels, which made YALSA's Top Ten List for Great Graphic Novels for Teens, and the YA graphic novel Token, named a highlight of the Minx imprint by PW. Alisa has an MFA from Columbia University. Her thesis, Till the Fat Lady Sings, a comedy of manners about college and eating disorders, made The New York Times' new and noteworthy in paperback list. The first issue of her latest comic book series, Mystik U, is coming out November '17 from DC Comics. Her first YA novel, Cadaver & Queen, will be coming out with Harlequin Teen in February '18.
Random Facts and the Occasional Falsehood:
Early success: I had my first book (of poems) published by the Teachers & Writers Collaborative when I was eight years old. Immediately after, I developed writer's block.
Early rejection: At Wesleyan University, I failed to get accepted to various creative writing courses until the brilliant Kit Reed took me under her wing. I went on to receive the Horgan prize for best short story.
Biggest Undergrad regret: I dropped out of Kit's husband Joe Reed's film course, not realizing that A) I would really need to perfect my visual storytelling skills or that B) one of the TA's was Joss Whedon, future creator of Buffy and Firefly.
First Real Job: After graduation, I worked as a newspaper reporter in Miami, where I specialized in a series on sex and the elderly.
Grad school: I returned to New York to attend Columbia's MFA program in fiction, where I realized that you don't really need to go to an MFA program to learn to write fiction. I continued to supplement the required reading with comics and romance novels. My MFA thesis, Till the Fat Lady Sings, was published by HarperCollins and reviewed in The Sunday NY Times.
Staff Editor: After grad school, I applied for entry level editorial positions at both Silhouette and DC Comics. I wound up working at DC Comics for Karen Berger on titles such as Neil Gaiman's The Sandman, and went on to become a full editor at Vertigo, the mature/dark fantasy imprint of DC Comics. For seven years, I enjoyed the luxury of a window office and the indescribable pleasure of being paid to tell other people what I thought.
These days, I freelance for DC Comics, write for Harlequin Teen, and edit for Liminal Comics, an imprint of Brain Mill Press. I also teach writing.
Hobbies: Improv (Kingston NY), singing bad seventies songs, dancing, hiking.