Kwitney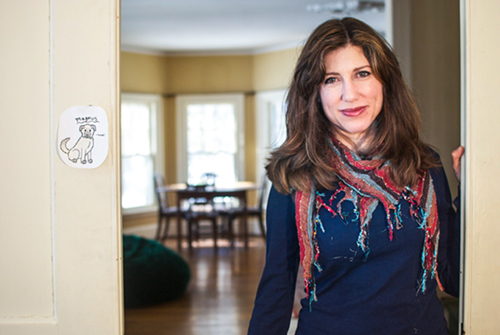 Why I have two names: I had already written six realistic novels as Alisa Kwitney when my editor suggested that I pick a pen name for my two werewolf novels, so as not to confuse readers. I picked Sheckley. (My father was the science fiction writer Robert Sheckley, but I was raised by my mother, Ziva Kwitney.)
Early success: I had my first book (of poems) published by the Teachers & Writers Collaborative when I was eight years old. Immediately after, I developed writer's block.
Early rejection: At Wesleyan University, I failed to get accepted to various creative writing courses until the brilliant Kit Reed took me under her wing. I went on to receive the Horgan prize for best short story.
Biggest Undergrad regret: I dropped out of Kit's husband Joe Reed's film course, not realizing that A) I would really need to perfect my visual storytelling skills or that B) one of the TA's was Joss Whedon, future creator of Buffy and Firefly.
First Real Job: After graduation, I worked as a newspaper reporter in Miami, where I specialized in a series on sex and the elderly.
Grad school: I returned to New York to attend Columbia's MFA program in fiction, where I realized that you don't really need to go to an MFA program to learn to write fiction. I continued to supplement the required reading with comics and romance novels. My MFA thesis, Till the Fat Lady Sings, was published by HarperCollins and reviewed in The Sunday NY Times.
Staff Editor: After grad school, I applied for entry level editorial positions at both Silhouette and DC Comics. I wound up working at DC Comics for Karen Berger on titles such as Neil Gaiman's The Sandman, and went on to become a full editor at Vertigo, the mature/dark fantasy imprint of DC Comics. For seven years, I enjoyed the luxury of a window office and the indescribable pleasure of being paid to tell other people what I thought.
Mother of Dragons: After my second child was born, I continued to work but left my staff position. Not much more to say about that, except that I don't regret it – even when my daughter says, "Why did you leave Vertigo, Mom?"
Hobbies: Acting, singing bad seventies songs, Flamenco dancing, hiking, consuming large amounts of cheese with anchovy stuffed olives.
These days, I write books and comics, teach writing and freelance edit in the Hudson River Valley, where I live with my family, two emotionally dependent Burmese cats and a big, extroverted Chinook dog.