Flirting In Cars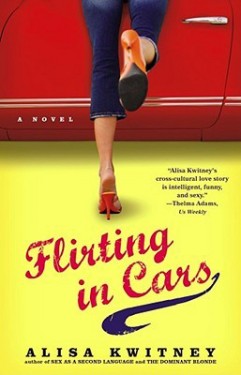 Washington Square Press • August 7, 2007
Purchase Book: Amazon | Barnes & Noble | Indie Bound
An accomplished journalist, Zoe Goren can't drive and she doesn't cook. But that's never been a problem in Manhattan, where the streets are filled with taxis and takeout restaurants, and a busy single mother can find everything she needs right at her fingertips. In fact, Zoe can't imagine living or working anyplace else. But when Zoe's daughter is diagnosed with dyslexia, she decides to make the ultimate sacrifice, moving two hours from Manhattan in order to enroll Maya in an excellent school for children with learning differences. Stranded in a rural paradise, Zoe must grapple with isolation, coyote howls, and the lack of good delivery services. But when she decides to overcome her fear of driving and take lessons, she meets Mack, an unnervingly attractive townie, back from Iraq and trying to adjust to civilian life. With a budding new romance and a reporting gig for the local paper, Zoe just might survive in the wilderness of small-town America after all.
Read Between the Lines
I was never much of a car person. I grew up in Manhattan, where all you need to be a hunter/gatherer is a pair of good walking shoes and an oversize purse. And then I moved to the country, due to what I call the "Green Acres marital dilemma, in which one partner says "I just adore a mountain view" and the other wails, "Darling, I love you, but give me Park Avenue." Except in my case, it was West End Avenue. Anyway, I agreed to try out rural living, because my farm-born husband was drooping like Jeff Bridges at the end of Starman, when he needs to get back to his home planet.
The biggest part of my culture shock had to with belatedly joining America's car culture. I mean, I knew how to drive, but all of a sudden, I had to understand the finer points of car etiquette. There were all these social cues I didn't understand, like flicking your headlights at someone to signal a tree in the road or a cop around the corner. Trying to pick up my kids from school, I made one vehicular faux pas after another. I didn't pull up far enough; I didn't pull over fast enough; I mowed down the apple sapling that the first grade had just helped plant.
And then I met people who had moved to the country without knowing how to drive. This still boggles my mind. In the country, without a car, you have less independence that your average thirteen-year-old city dweller.
"I've lived in Tel Aviv, London, Paris and Madrid," said one woman of my acquaintance, "and the hardest transition was between living in Manhattan and living in the country."
But this woman lives in Rhinebeck, which is a cosmopolitan mecca compared to where I live. I mean, she has multiple traffic lights, a bagel shop, boutiques. I have stores that sell hoof scrapings and horse blankets.
Worst of all, I can't even complain to my friends. "You live in paradise," they insist. "Big old house, working fireplace, evocative weeping willow and just the right amount of mountain in the background. Besides, it's the perfect place to write."
And they were right, in a sense. Because Flirting in Cars, my story of a city woman's awkward adjustment to country life, was one of those rare novels that seems to write itself.
Of course, I wrote most of it in the busiest café in town.
Reviews
"This exciting tease of a novel will set your heart pounding like the best love affair. Smart, funny, sexy – I loved it!"—Pamela Redmond Satran, author of The Man I Should Have Married and Suburbanistas
"Flirting in Cars is a modern-day fairy tale about finding happily-ever-after where you least expect it. I couldn't put it down."—Karen Quinn, author of The Ivy Chronicles and Wife in the Fast Lane
"Alisa Kwitney's cross-cultural love story is intelligent, funny and sexy."– Thelma Adams, US Weekly