Welcome to my new website!
I am very excited to be launching my new website. It was designed by my friends, Alex Tuller and Dean Temple at Drake Creative. Alex took the pictures of me with mini Hawkeye coming out of my head, as well as the exciting love triangle pics of Hawkeye, Dawn (a seventies mod version of Barbie) and Zera (from the original Planet of the Apes).
The whole action figure thing happened after Alex and I took what we thought was the real author shot – the one of me standing in the doorway. We just started fooling around toward the end (there had been a little wine involved, to loosen me up so I didn't do rictus smile at camera) and started creating this whole torrid action figure drama (maybe I'll get Alex to put up some of the other shots, so you can see the whole sequence).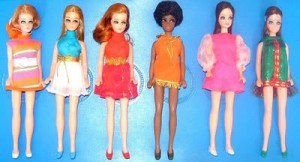 I love the idea that the stuff we did when we thought we weren't working became the center of the whole website design. In my career, it's almost always turned out that the things I did for fun, without overthinking, turned out to be more successful than the projects I labored to create.
In any case, welcome to my new website! Hope you'll come back to check out future blogs and post comments.